Spring Garden Indoor Antique & Vintage Market
9th & Spring Garden
March, 2013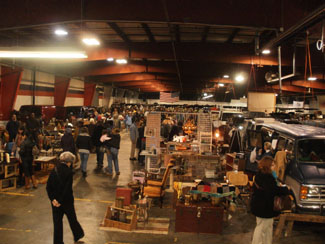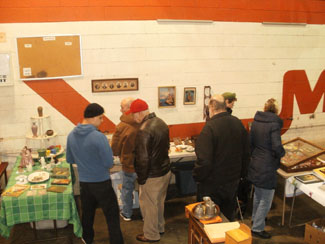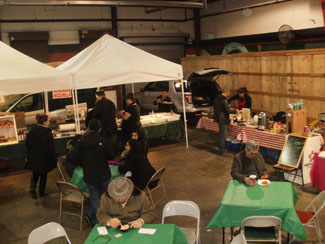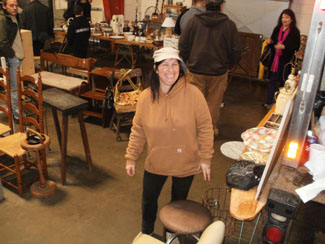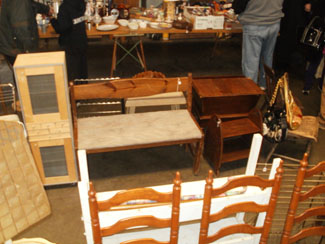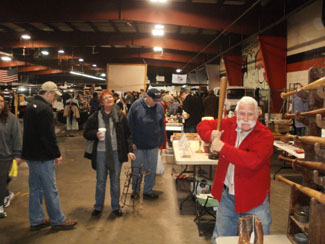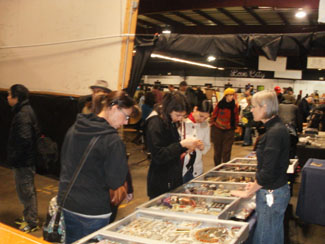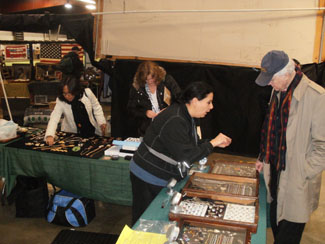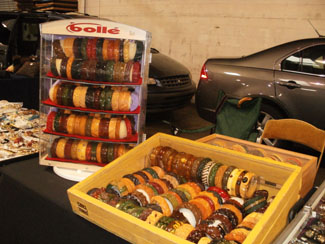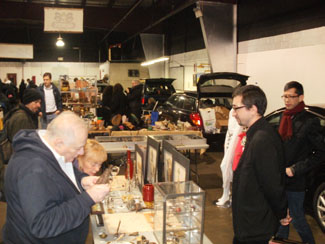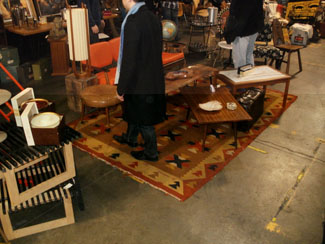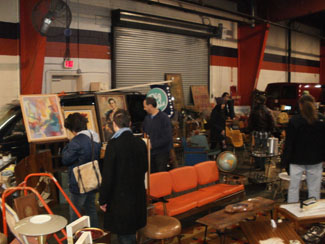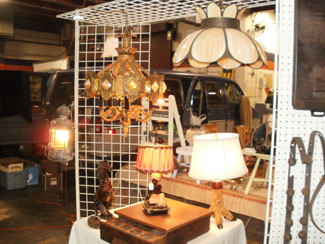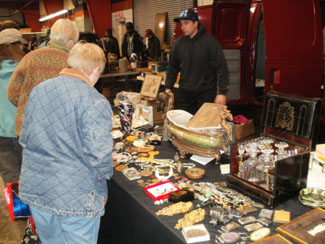 January, 2013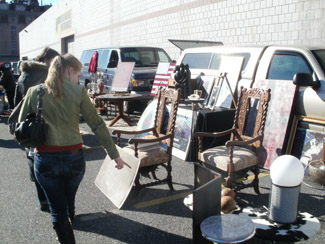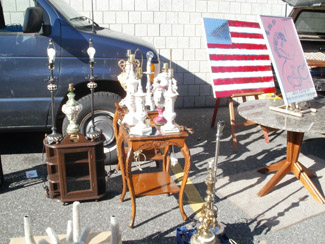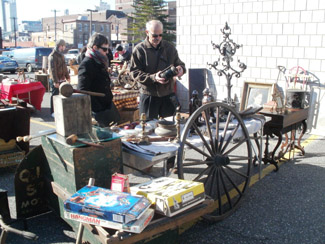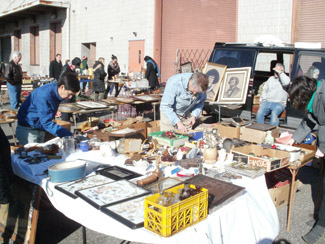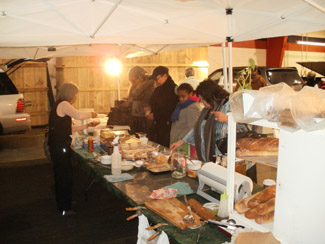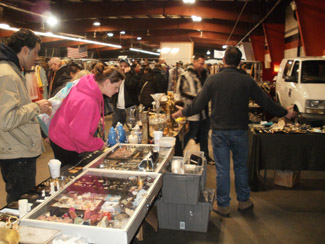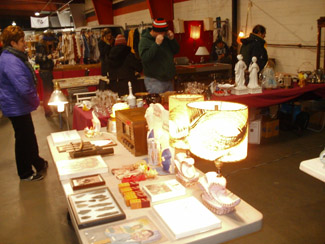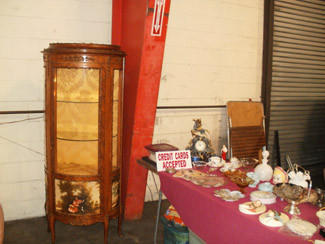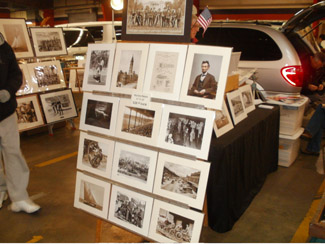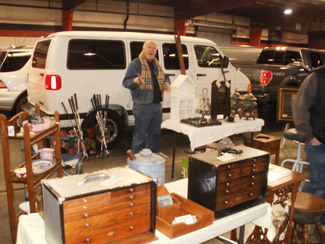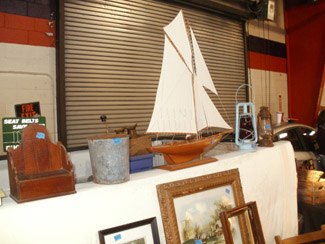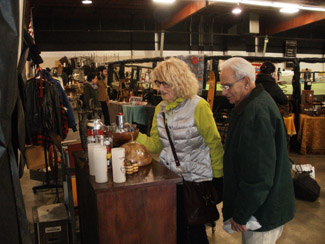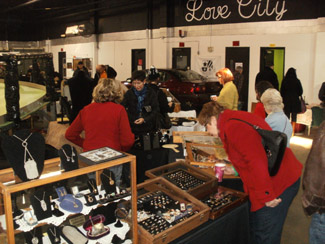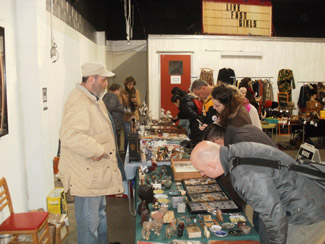 December, 2012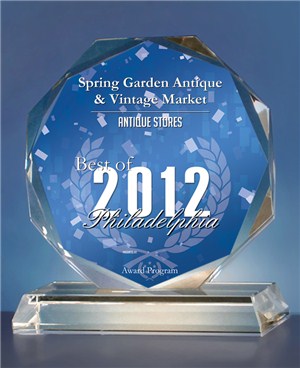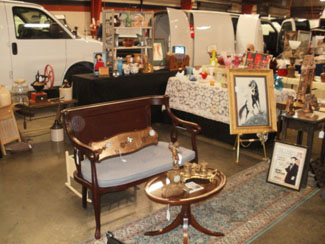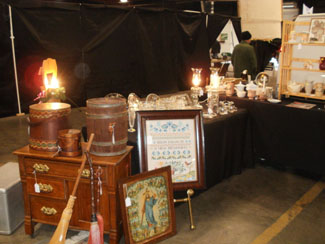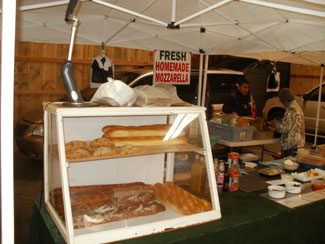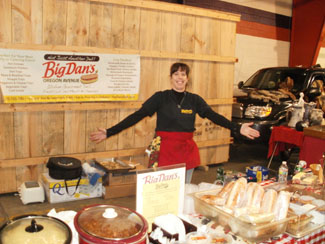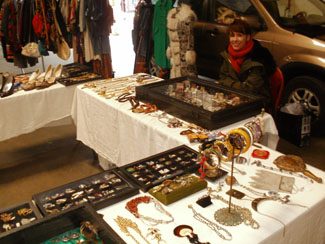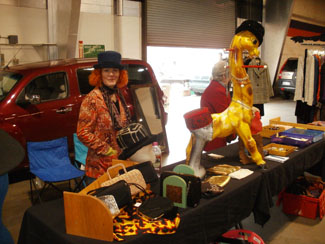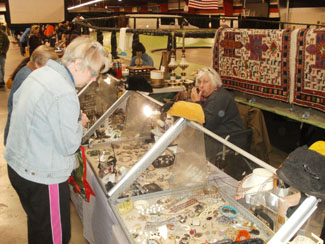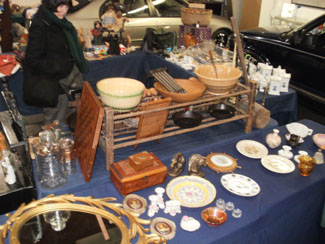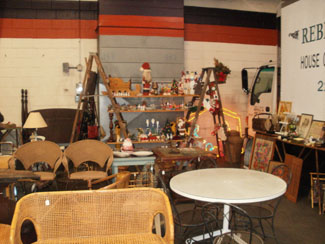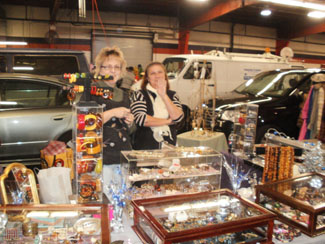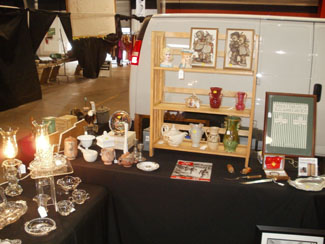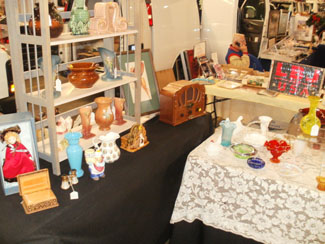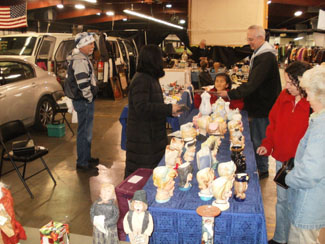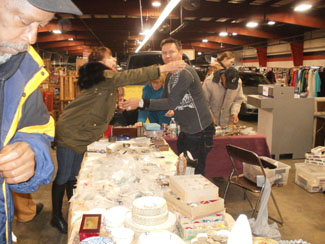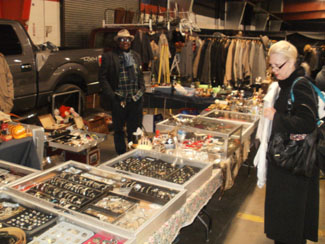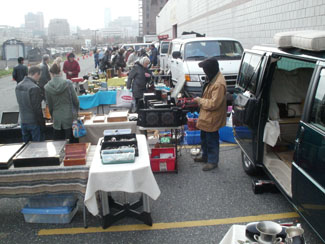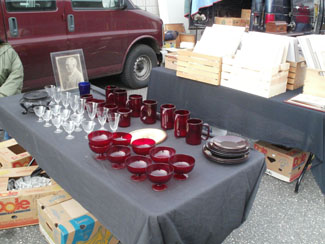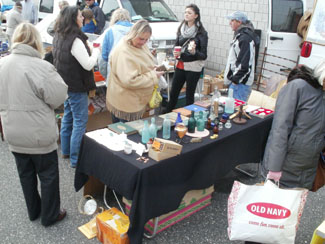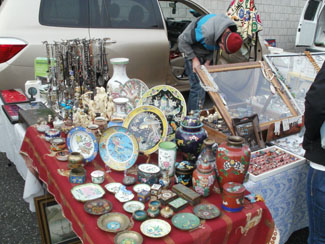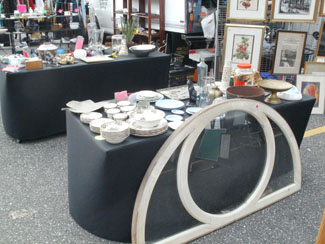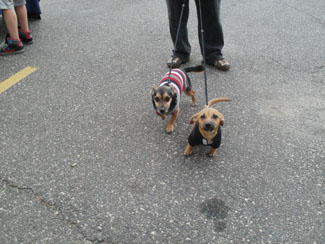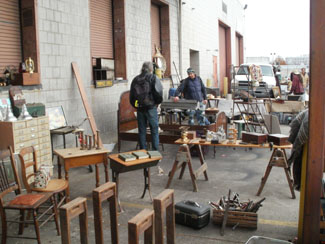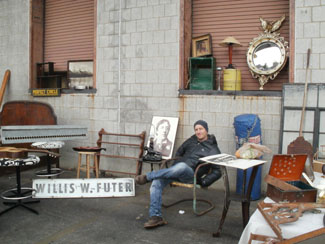 ---
July, 2012
"Market Warriors"
Click On The Photo Below To View "Market Warriors" Filmed At The Spring Garden Indoor Antique & Vintage Flea Market

March, 2012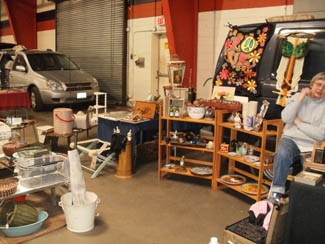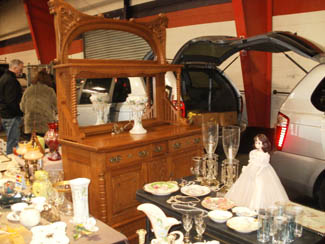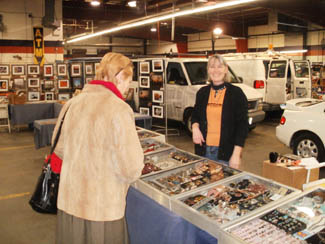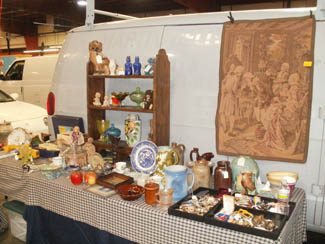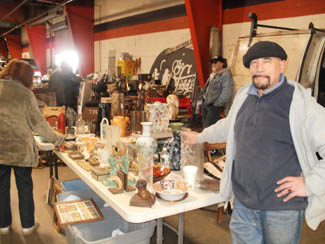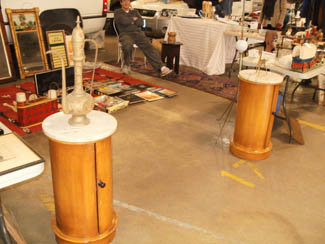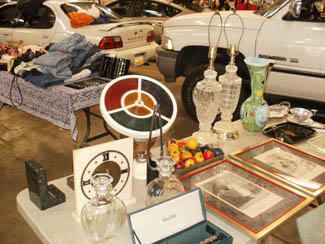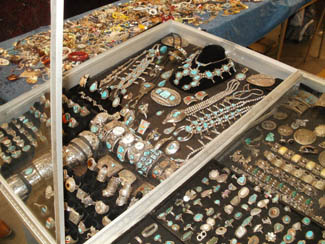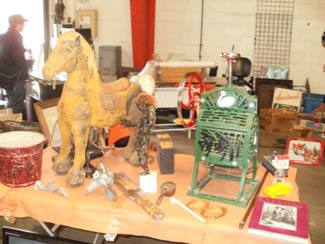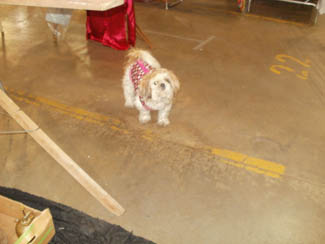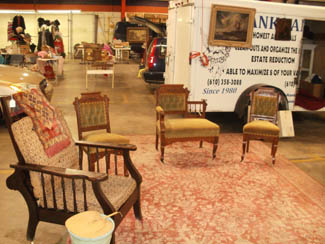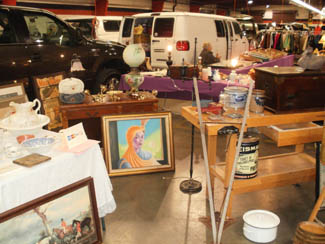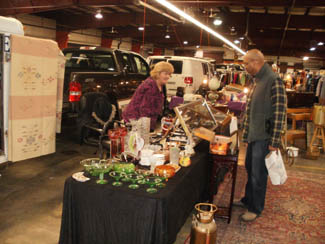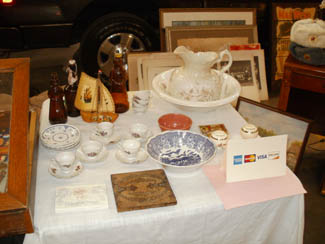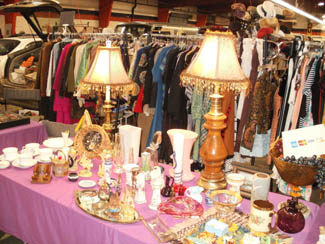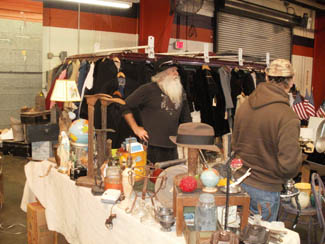 ---
Click Play To View The Video From Yelp.com
---
Phila Flea Markets: A Snapshot Into The Past / Indoor Market Every
Saturday At 9th & Spring Garden
By Nicole Contosta
Staff Reporter Weekly Press of Philadelphia

There's more to shopping at vintage or antique shops than simply purchasing
Victorian era furniture or retro go-go boots.

As any veteran shopper knows, the mere experience of shopping often produces as much enjoyment as acquiring the item itself. And shopping at vintage and antique shops creates yet another layer of delight. Aside from deriving pleasure in imagining how a couch or painting will compliment your residence, there's the fact that the item has a history. That French print advertising Pernod, circa the 1930's may have once hung in a young woman's first adult apartment. And that set of turn of the century handmade wood rocking chairs may have once sat on a farmhouse's front porch during the Great Depression.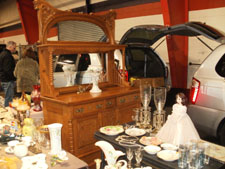 In many ways, shopping at a vintage or antique shop offers a snap shot into
the past. It isn't that dissimilar from walking through various period rooms
at the Philadelphia Museum of Art. And when it comes to the Phila Flea
Market, open every Saturday Now Thru March from 8 a.m. til 4 p.m. at its location on 9th and Spring Garden, this sentiment proves especially true. With over 60 vendors each week, shoppers can stroll past a wide variety of clothing, jewelry, glassware, collectibles and furniture from different eras before making
their final selections. Some of its items, such as the distressed furniture
appeal to shoppers who like to furnish their apartments with "shabby sheik
items." Since many of the vendors change on a frequent basis, shoppers don't
get bored with the same items every week. And if they become hungry, they
can have lunch from one of its two food trucks, Lou's Food Grill from the
food distribution center at 3rd and Packer or Big Dan's Deli at 8th and
Oregon, explains the Phila Flea Market's coordinator, Tony Soprano, who
describes both vendors "as great."

While its referred to as a flea market, Soprano stresses the fact that the
Spring Garden market doesn't sell "new items or any of the traditional
bric-a-brac house ware items found at traditional flea markets," Soprano
explained, clarifying that "those items are not sold at the indoor market at
9th and Spring Garden. However, "you will see some of that at the outdoor
flea markets we host May through October." Soprano's comment refers to the
ten outdoor flea markets it hosts at five different locations. Each market
will be held twice at the same location in May and June and repeating again
in September and October. "We take July and August off because it's too
hot," Soprano said, explaining that "that not as many people come out and
our vendors literally melt in the sun." The five outdoor flea markets are
held on 10th and South, 3rd and Pine, Head House Square, Jefferson Square
Park at 4th and Washington as well as the Penitentiary at 22nd and
Fairmount, which Soprano describes as our "Superbowl of flea markets, we
have over 175 vendors, many of the travel from as far as New York City and
Washington DC." According to Soprano, many of Phila Flea Market vendors own
their own vintage and boutique shops.

For the lovers of vintage and antique apparel, the Phila Flea Market has had
a rich history in the city of Brotherly Love. It all began twenty-five years
ago when Soprano, as treasurer of his condo association, needed to raise
money. As luck would have it, the parking lot across the street from his
condominium at 23rd and Race, which was used at the time for school district
employees, Monday through Friday, was vacant on the weekends, so Soprano
decided to host a flea market. "From there it really took off," Soprano
explained.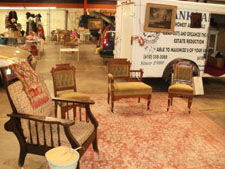 Shopping at the Spring Garden location, now in its second season, is a
fairly new development, Soprano explained. The building was once used as the
hub of Philadelphia FedEx. "But," Soprano said, "they outgrew their space
and moved to another location on 34th and Grays Ferry."

So if you're a lover of the old and classic, make sure to check out the
Spring Garden Market, which not only offers dressing rooms for people buying
clothes but also accepts all major credit cards. And if you're a potential
vendor, simply go to the flea market web site to complete the simple
application process at www.philafleamarkets.org
---
February, 2012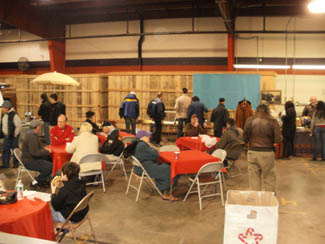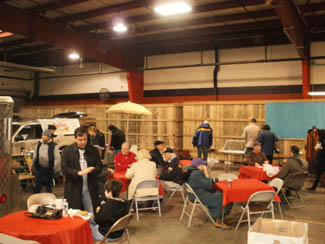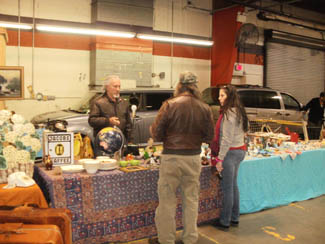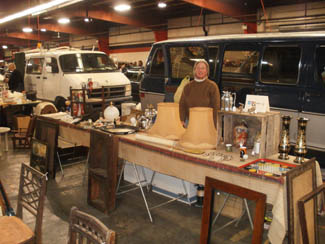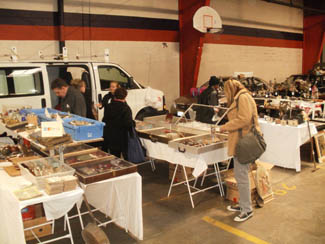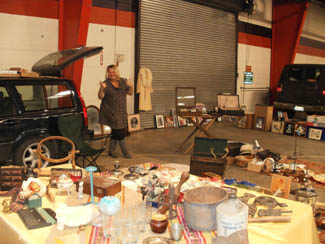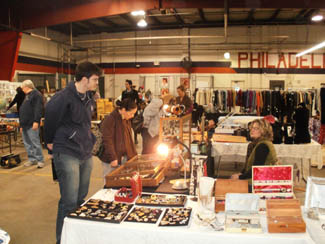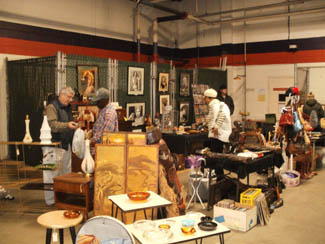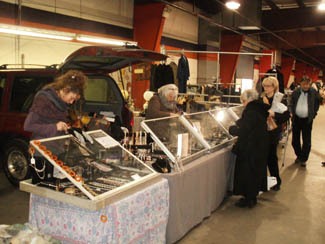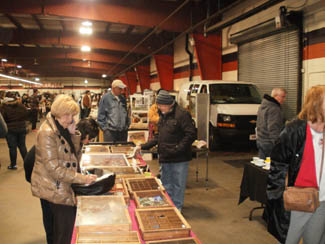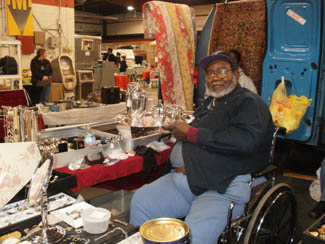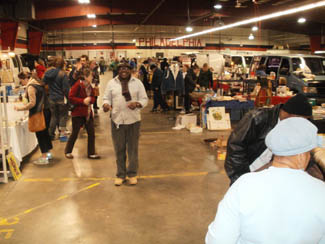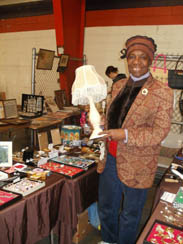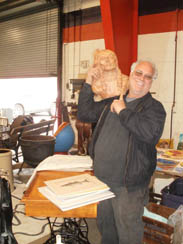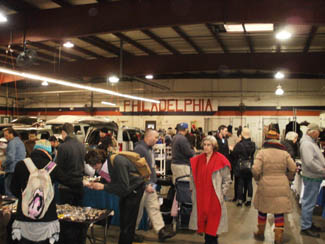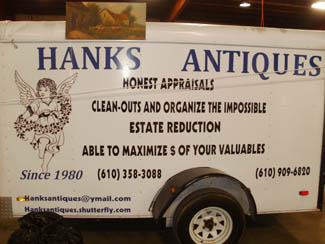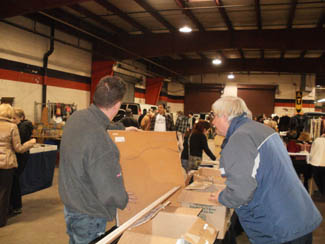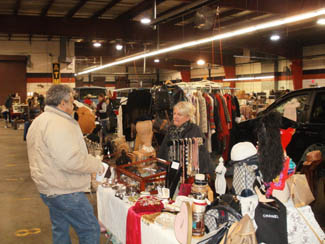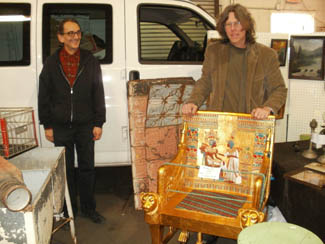 ---
January, 2012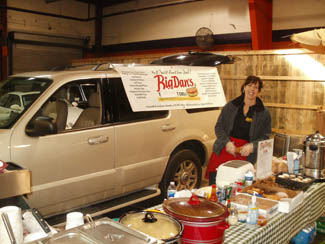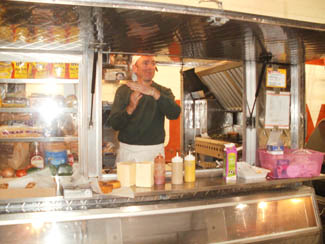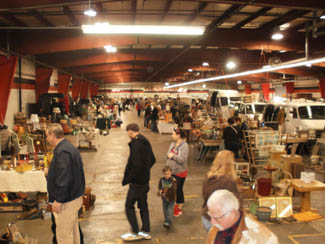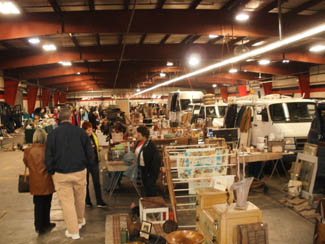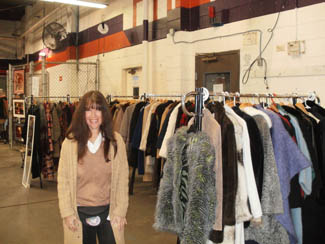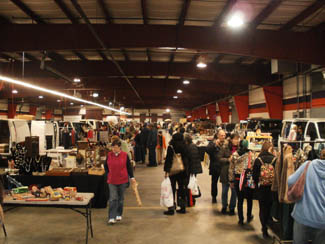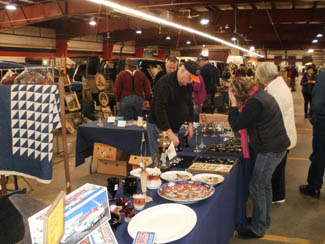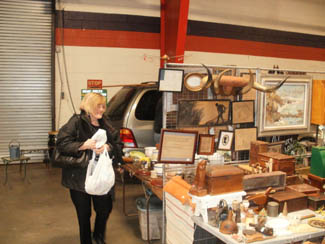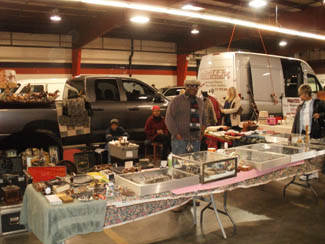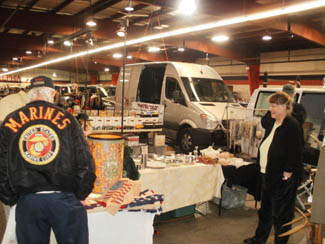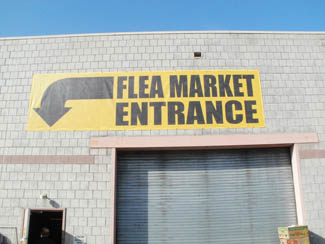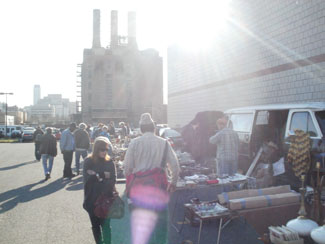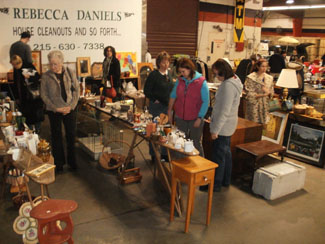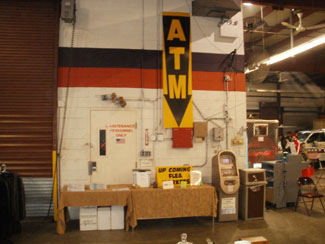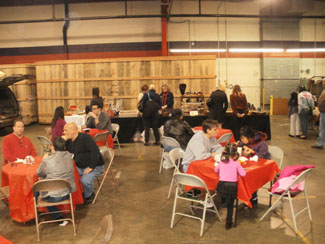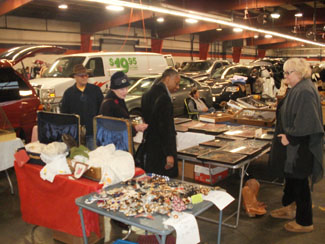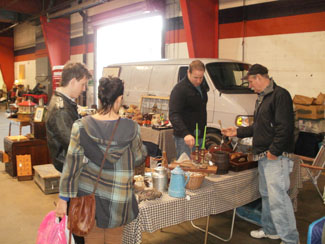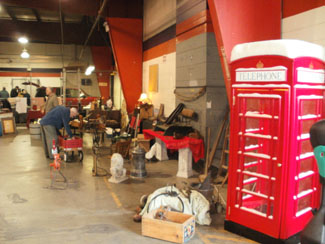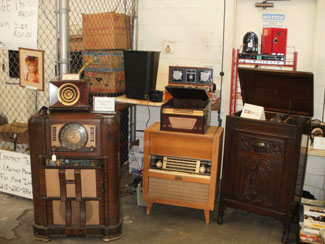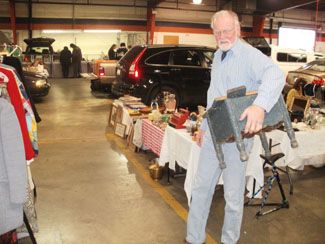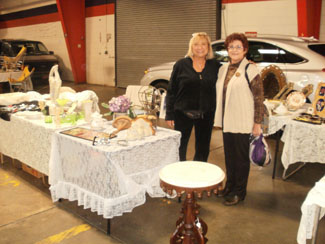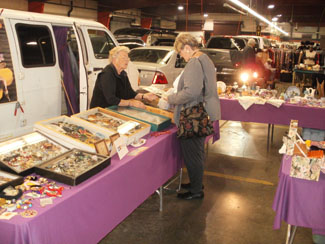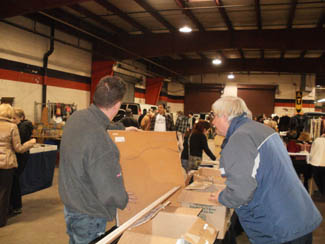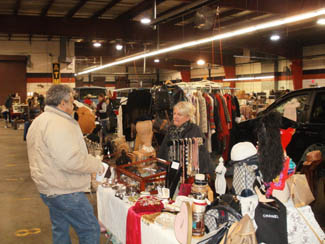 ---
Christmas Shopping in the Market
A view from the entrance of the flea market. There are over 60 vendors at the flea market every Sat.
Published
• Wed, Dec 07, 2011
By Landon Small
Tired of Saturday cartoons? Why not come down to the Spring Garden Indoor Antique and Village Flea Market any Saturday from 8AM until 4PM!
Every Saturday morning from November through March, Tony Soprano and a herd of his vendors break open the doors of an old 36,000 square foot, FedEx warehouse at 9th and Spring Garden Streets to enthusiastic shoppers who are "raring to go" to find their treasures in the market.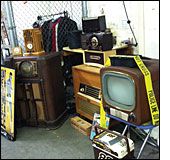 "Each week there are about 60 vendors, but they're not always the same! This week we had about 10 new vendors and each week they rotate so you never have the same line up time after time," Tony Soprano, the flea market manager, said.
This specific flea market specializes in antique & vintage type merchandise, so customers can find anything from Victorian-age furniture to retro clothing. Vintage jewelry is a big hit as well.
"Also, all of the vendors have some sort of Christmas or holiday type items for sale," Soprano said. Even the Market's information booth is decorated for Christmas.
The vendors enjoy the market as much as the shoppers. "I meet all sorts of interesting people while working at the flea market. I have sports items for the guys and jewelry for the girls. I even met my girlfriend indirectly at the flea market," said Shell Farber, a local vendor.
Recently, the market added a changing room for their customers to try on clothing, which has been a big hit since now there is no need to hope apparel fits; you can try it on and know just how good the clothing fits you when you make your purchase.
Customers can also come to the flea market with an empty stomach in hopes of getting a good meal.
"We have a decent size food court with tables and chairs. We have food vendors like Lou's Food Grill from 3rd and Packer and Big Dan's Deli from 8th and Oregon. There are usually donuts, grilled egg sandwichesand coffee in the morning for our customers as well," Soprano said.
On Saturdays with nice weather, the flea market even stretches outside. Last Saturday there were about 10 vendors outside, but in the future Soprano hopes to use one of the front parking lots as additional space for vendors.
If you would like to become a vendor, the process is easy. Just access the website, www.philafleamarkets.org and click "Vendor Application." From there you can print and fill out the application. "We have free parking, free admission, an ATM and now our vendors also accept all major credit cards for customers too," Soprano said.
The flea markets have benefited non-profit organizations since 1987. For example, the Fairmount Flea Market at 22nd & Fairmount benefits the park behind the Eastern State Penitentiary.
So this Saturday you should head on down to the Spring Garden Indoor Antique and Village Flea Market at 9th and Spring Garden Streets beginning at 8AM. You'll know you're there when Santa Claus waves you into the parking lot!
---
April, 2011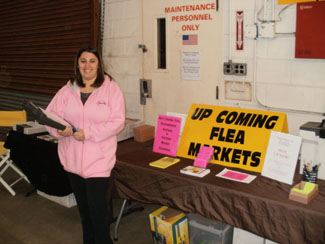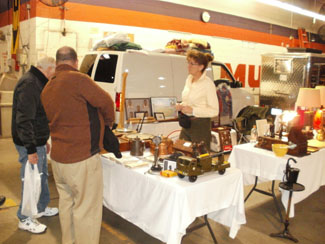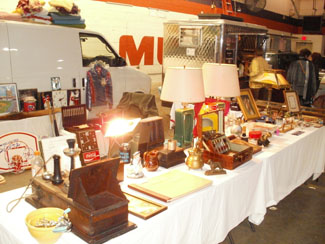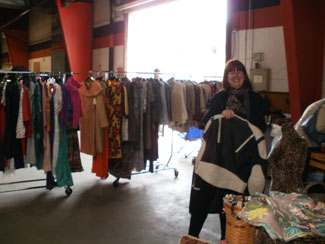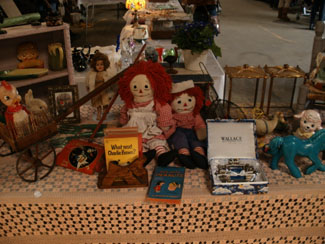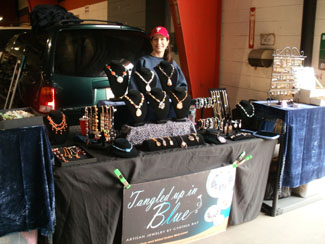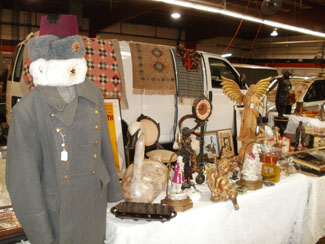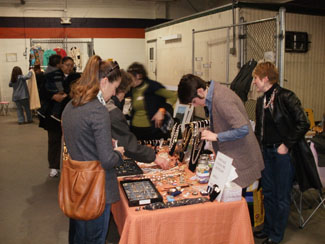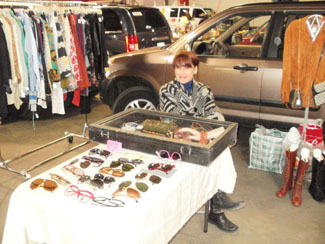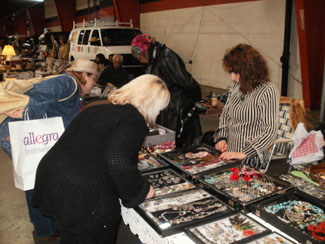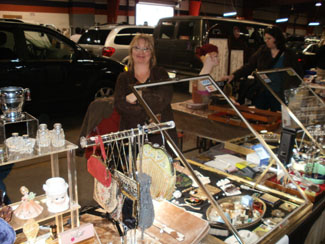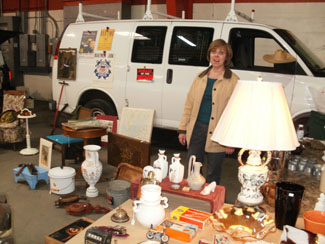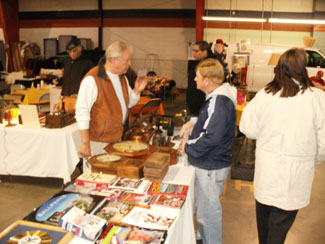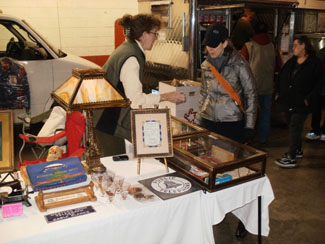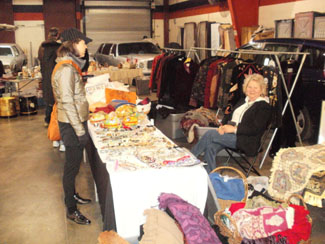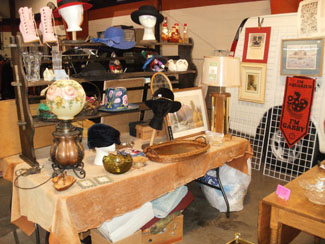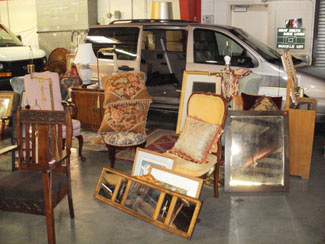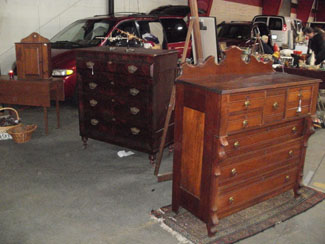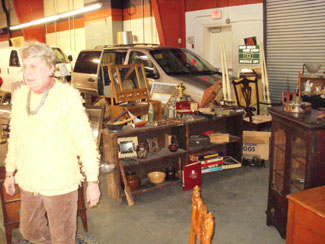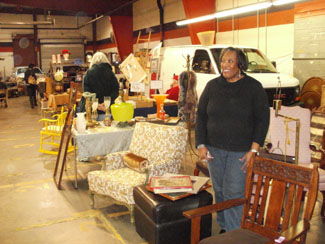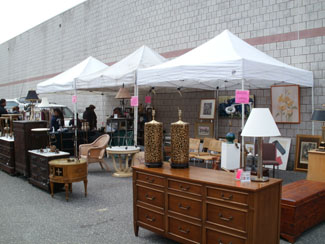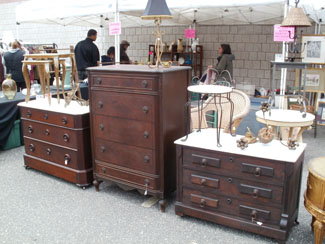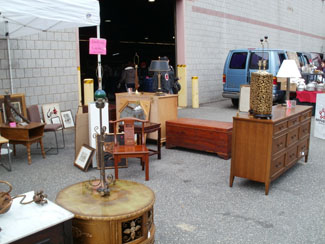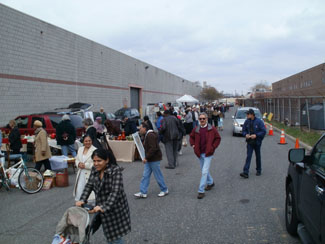 ---
March, 2011
See what Pure Vintage Chicago is saying about Phila Flea!
About Me

Chicago, IL, Illinois, United States

I am in the unique position to see the vintage/antique world from 3 perspectives, the dealer, the collector and promotion. I work for the Randolph Street Market in Chicago along with my own business, the all new Pure Vintage Chicago. This blog is just about me and my opinions or ideas on things.

View my complete profile

Phila Flea is a Hidden Gem



At Spring Garden and 9th - Center City, crack of dawn on Saturday morning, I got my first taste of the Phila Flea Markets. An entrepreneur by the name of Tony is the proud Papa of this market and definitely went above and beyond to show me around Philly when we arrived. This morning's market was completely sold out indoors and because of the 60 degree unseasonable weather in early March, he was able to add 10 more vendors from the waiting list outdoors in the parking lot for a total of about 65 dealers. The no frills venue is a former Fed-Ex warehouse space with big overhead lighting. Dealers pull their cars right in and leave them behind their space. I thought instead of cars, more vendors would be better - but just my opinion as a compulsive vintage shopper of course :)

Vendors rent 20 x 20 booth space for 75 dollars for the day, which is a helluva deal. There is free parking for customers and it's free to get in. We arrived at 6 am while dealers were loading in and got first glimpse of the incoming merchandise. The vintage clothing and jewelry selection was strong and most surprisingly to me was the amount of men's vintage clothing at this market. Men's vintage is much more uncommon than women's, so to see this much of a selection was very interesting. A good amount of genuine antique clothing was seen, a lot more than I'm used to.

Tony's vendors are mostly a Philly crew but some come from as far as Atlantic City and New York. My favorite non jewelry booth was a gentleman from Reading PA and if he would have been a traveling dealer I would have been right after him for the Randolph Street Market in Chicago. Plaster of Paris decorative pistols, wooden animals, big red assorted letters, a crushed velvet stage curtain as the backdrop of his booth and plenty of great vintage for your walls.

My favorite booth of jewelry held plenty of the big bold chunky 70's and 80's jewelry I am always looking for and I managed to walk away with quite a few good pieces from Patty and she was a sweetheart to boot. Being the vintage jewelry and clothing lover I am there was a lot to make me happy here.

Prices across the board are affordable so I bought quite a bit. I am honestly surprised more dealers aren't lurking around at 5 am to pick this market clean but it could be they just don't know about it yet. Affordable quality vintage a plenty. There are many seasoned veterans in this group. One we spoke with was heading straight up to NYC after the show to do the Garage Antique Market on Sunday morning.




If you get to go to any of his shows, look for Tony in his signature white cowboy hat, you'll be sure to get a warm welcome!
source: Pure Vintage Chicago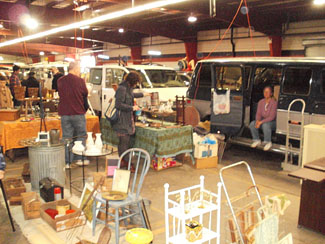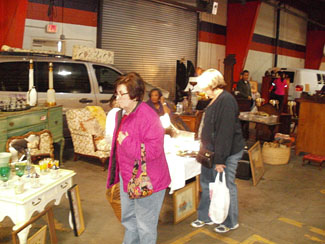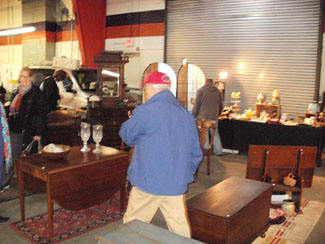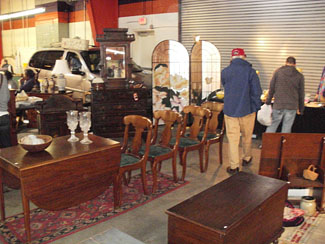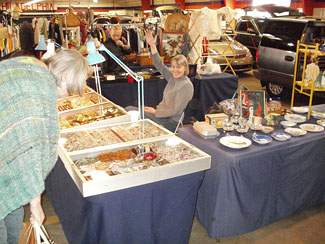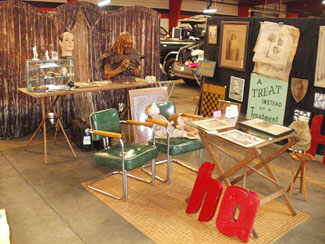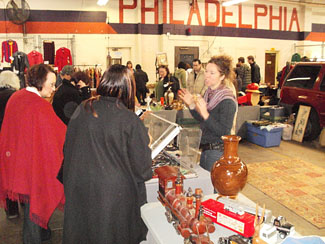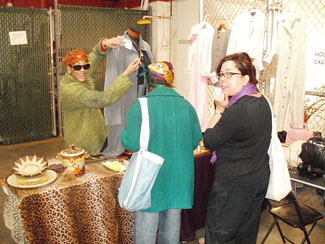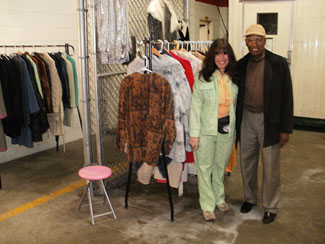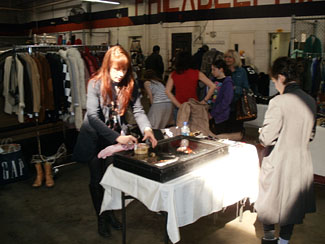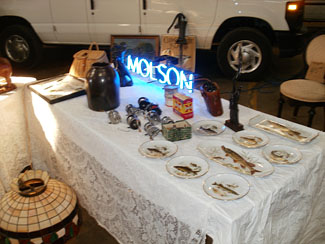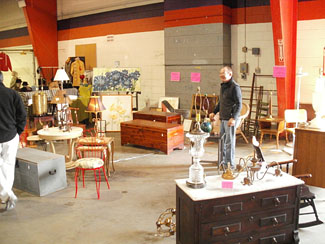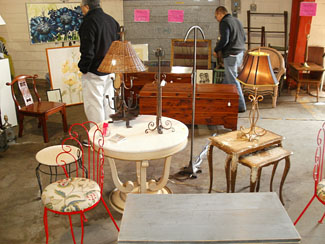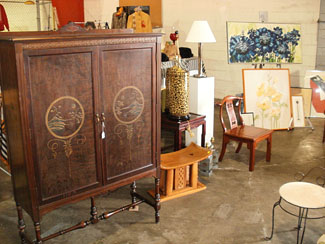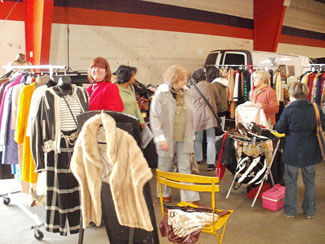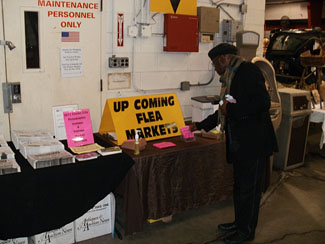 ---
February, 2011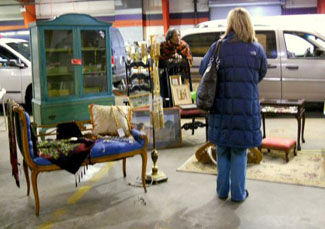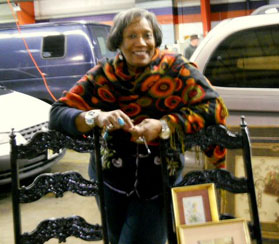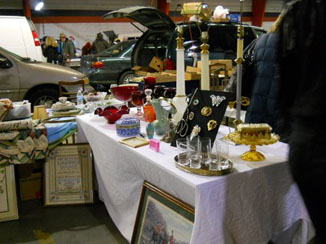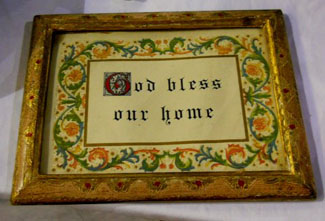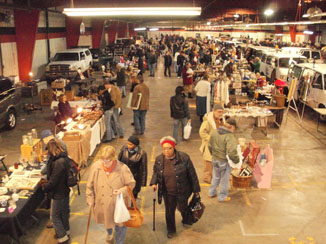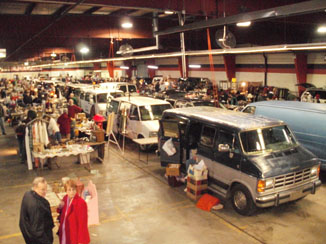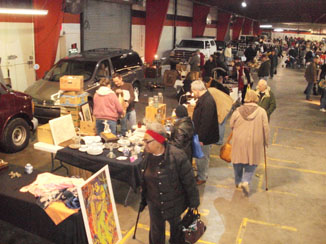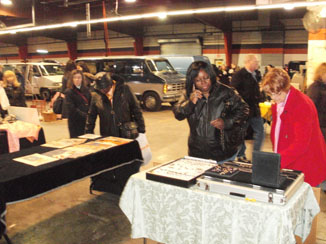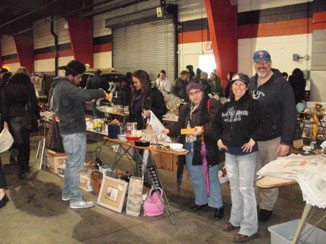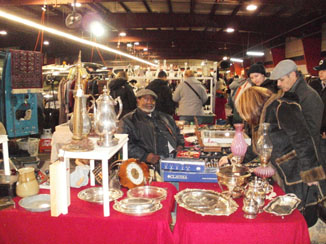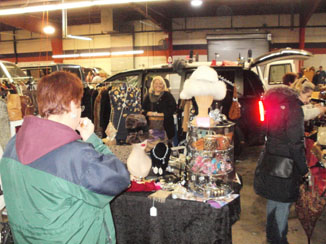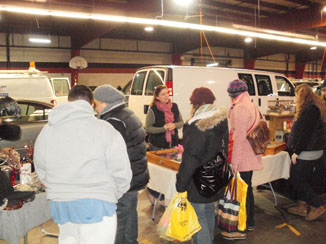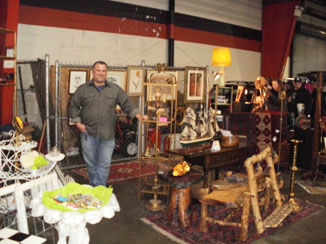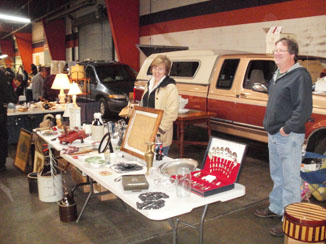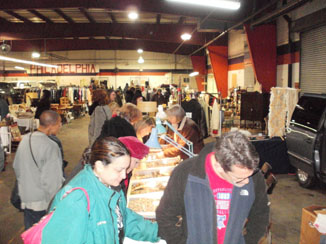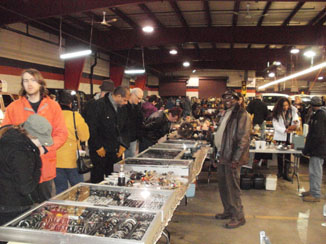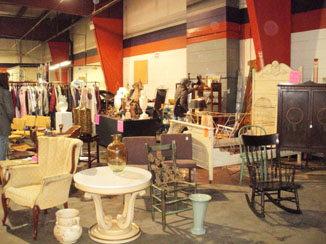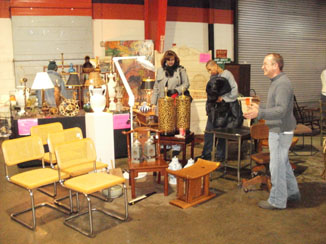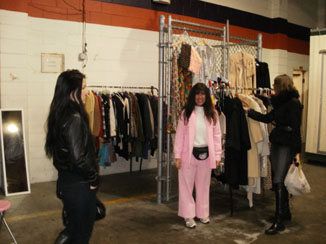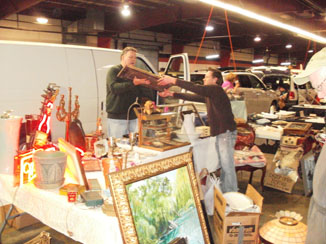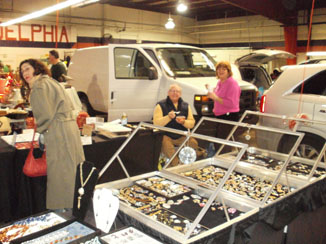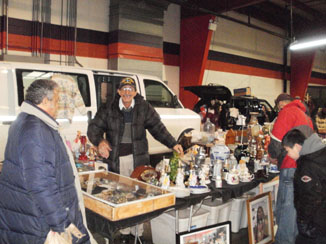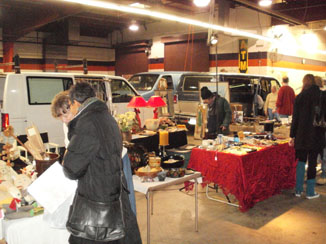 ---
January, 2011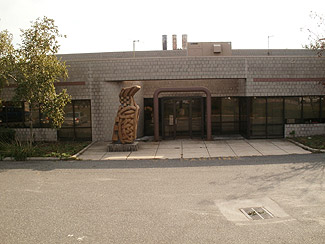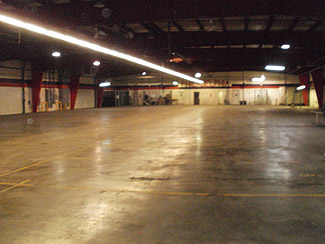 Former Fed Ex Warehouse Before Vendors Arrive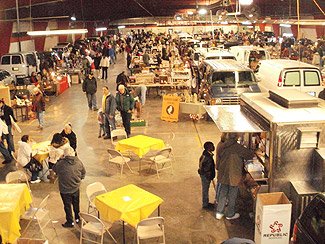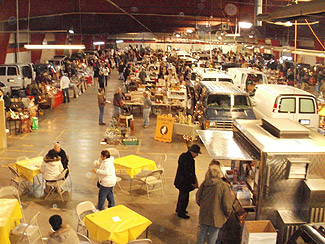 Warehouse After Market Has Opened 8AM til 4PM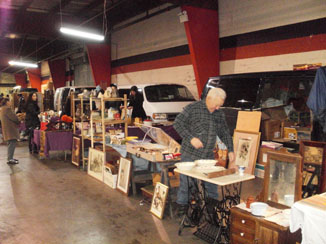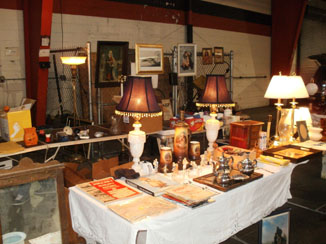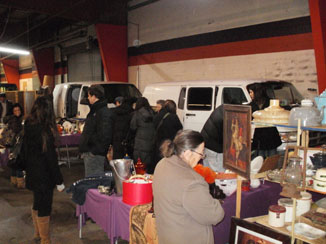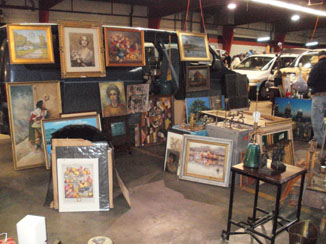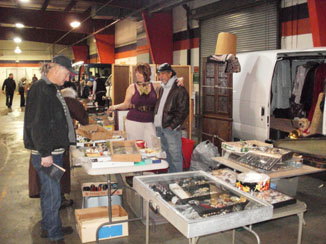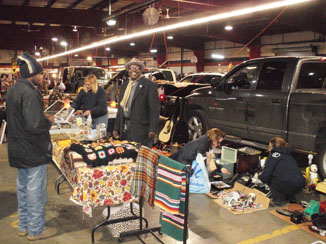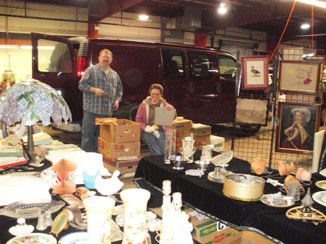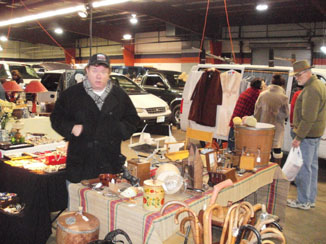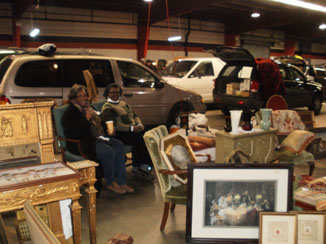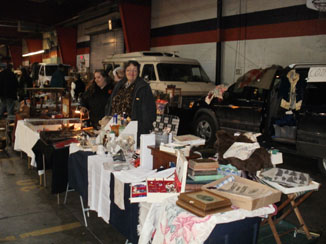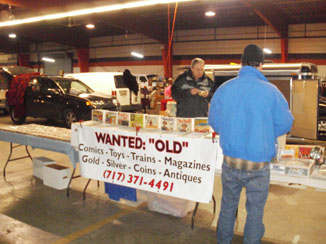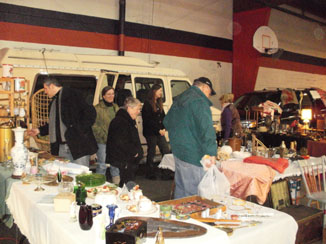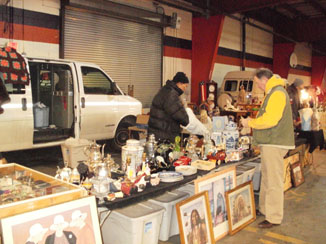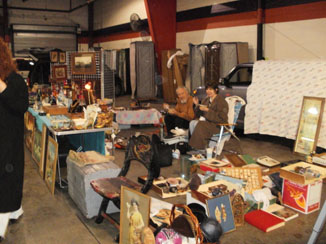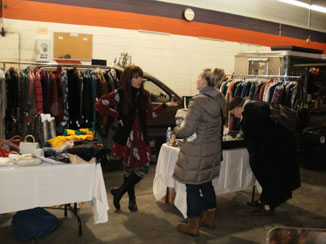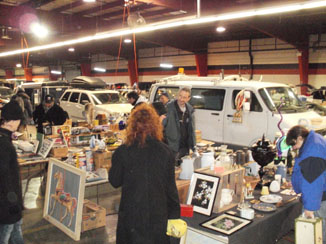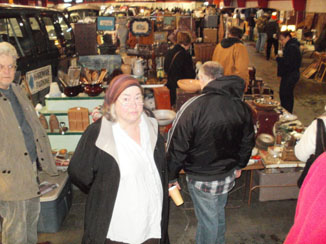 ---
December, 2010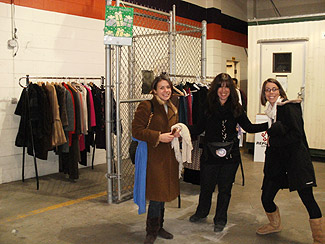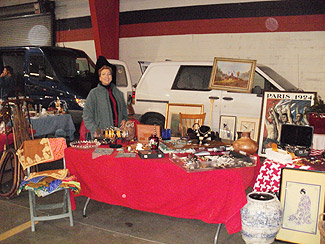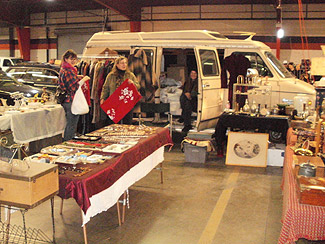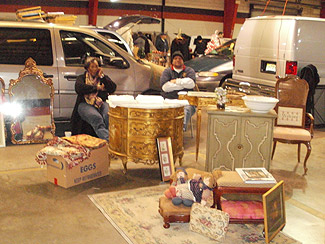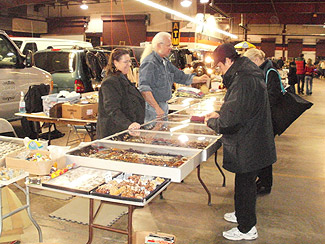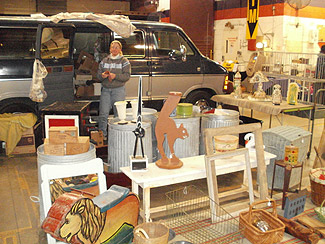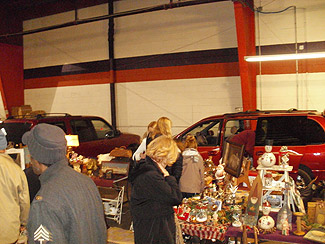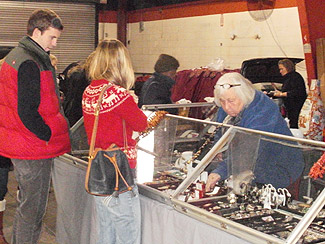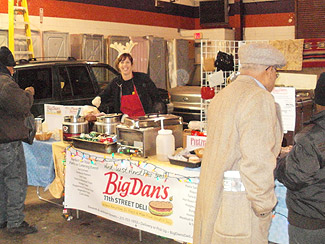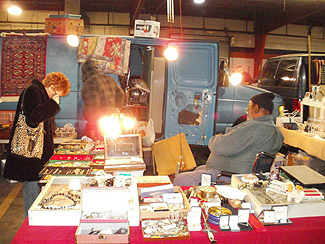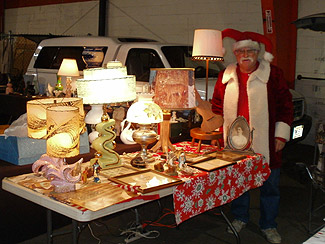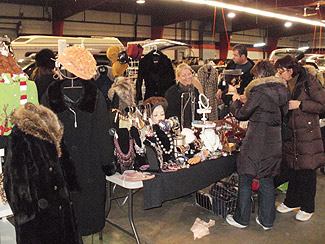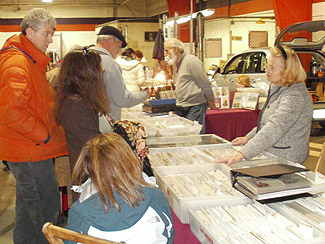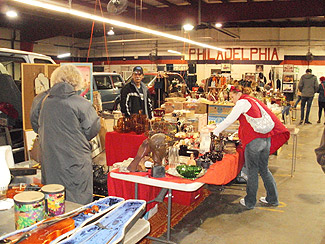 ---
24 HR VOICE MAIL -
215-625-FLEA (3532)