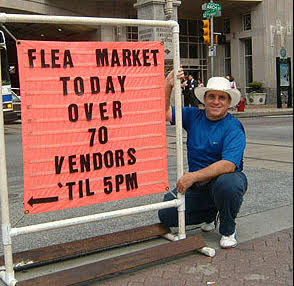 Phila Flea Markets (AKA The Philly Flea) got its start back in 1985 when a small group of residents wanted to have a neighborhood sidewalk sale in front of their homes in the Logan Circle section of Phila. around 23rd & Race Streets. I wanted to bump the sidewalk sale up a notch and make it a neighborhood Flea Market.
I sat down with my data processor and typed up copies and passed them around the neighborhood and got a few takers. Back then Flea Markets were listed in the newspaper just like the movies and I went to several other established Flea Markets and handed out more flyers and got a few more takers and in May, 1985 the first Philly Flea was born with about 35 vendors.
The Flea Market was a fund raiser for our Condo Association and was a huge success. We decided to have another market in October and this time attracted about 75 vendors. The word was out and after that some non-profit organizations started to contact me to do fund raisers for them such as Schools, Churches, Parks, Recreation Centers and Business Associations and Phila Flea Markets was on its way to become a Philadelphia tradition every year.
When I moved out of the Logan Circle neighborhood a few blocks North to Fairmount in 1990 we moved the Flea Market to the sidewalk around The Eastern State Penitentiary. This location as become the "Super Bowl" of any of our locations and is still in operation to this day every May and September.
Sign up for PhilaFlea emails!
Receive reminders two days prior to each market
---

"Phila Flea" Was Chosen As One Of The "41 Things To Do In Philly"