Due To New Construction At The Roosevelt Mall Unfortunately The Roosevelt Flea Market Has Been Canceled Permanently! We're Sorry For The Last Minute Notice. The Flea Market Has Been A Staple In The Rhawnhurst & Mayfair Communities Since 2015. We're Sorry To See It Close.
Our New Location Is Franklin Mills, 90 Franklin Mills Blvd, NE Phila, NOW OPEN EVERY SUNDAY THRU NOVEMBER 8AM – 4PM!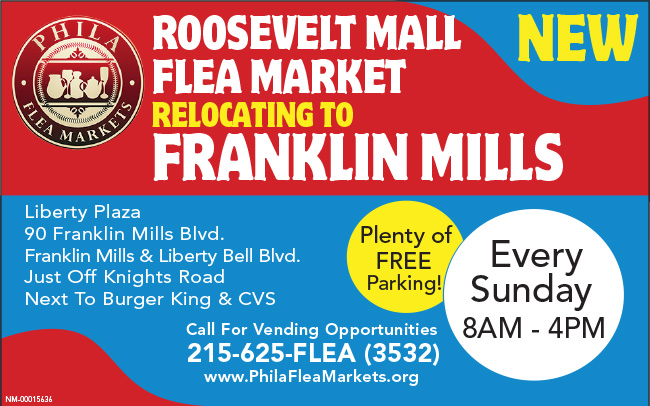 Address:
90 Franklin Mills Blvd
Philadelphia, PA 19154
Coordinates:
40.0879457, -74.9698059
Neighborhood:
NE Philadelphia
There's something for everyone!
Welcome To "The Philly Flea"
Phila Flea Markets (AKA The Philly Flea) is the longest running organized Flea Market group in Philadelphia since 1985. We organize the largest indoor/outdoor vintage flea markets that travel to various Center City Philadelphia neighborhoods April thru October. Also, our indoor market every Saturday & Sunday November thru April on the Mainline at the Valley Fair Shopping Center, Berwyn, PA featuring a wide variety of merchandise but with an accent on antiques & vintage! We are also every Sunday April thru November outdoors at the Roosevelt Mall, 2445 Cottman Ave, NE Phila, PA. All markets are handicap accessible!
Sign up for PhilaFlea emails!
Receive reminders two days prior to each market
---

"Phila Flea" Was Chosen As One Of The "41 Things To Do In Philly"